Knowing how to apply concealer on acne will give you the magical effect that your acne has disappeared. However, knowing how to apply the concealer on acne the right way is the secret to disappearing acne. So read and learn closely the simple steps on how to apply concealer on acne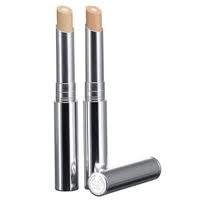 Tools for How to Apply Concealer on Acne
Makeup sponge or applicator
Liquid or cream-to-powder makeup
Green-based concealer liquid or cream
Concealer cream in your skin tone
Translucent or loose powder in your skin tone
Step-by-Step Instructions for How to Apply Concealer on Acne
Make sure you wash your face thoroughly to remove excess oil and apply a light moisturizing lotion thereafter. Apply moisturizer will help reduce the dryness and peeling that sometimes acne treatment cause.
After that, apply your makeup base. You will need to use light strokes and gentle touch to avoid breakouts.
Next, apply a green concealer to red color acne as green concealer actually tones down the red color. Very important to note not to rub but gently pat with your finger. Remember to always use clean makeup sponge to blend in and blend it in thoroughly.
After that, blend in the concealer with your skin tone at areas covered by the green concealer. Concealers in pots or tubes usually gives a better coverage than stick-type of concealer.
Lastly, lightly dust the entire face with powder using translucent or loose power to set in the concealer giving the skin a matte appearance without adding extra color to the face. Loose powder also helps absorb the oil throughout the day.
Important Notes on How to Apply Concealer on Acne
With these armed instructions, there are a few important notes that you have to keep in mind. First when choosing a concealer, remember to choose one that matches your skin tone or slightly darker as darker colors make the larger acne look smaller.
Also, ensure that you remove all the makeup you have applied thoroughly before going to bed for the night. For more better coverage and staying power, allow concealer to set for 5 to 10 seconds before the next step.