While many have the wrong perception that mineral makeup can help cure acne, there are a few benefits of mineral makeup compared with normal makeup.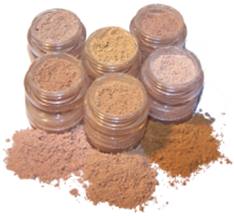 One of the starting benefits of mineral makeup is the proponents that mineral makeup does not have such as fragrance, preservatives and other filler ingredients which can cause problems to those with sensitive skin.
Most mineral makeup contain ingredients such as titanium dioxide and zinc oxide which contains anti-irritant and anti-inflammatory properties.
Apart from the obvious fact that the components of mineral makeup natural, it is also extremely light on the skin and safe to go to bed with. It is also an ideal makeup option after laser surgery, microdermabrasion and chemical peel. As mineral makeup uses inorganic components, it does not encourage infection or skin disorders. Finally, mineral makeup includes a wide spectrum of UVB and UVA sun protection