We've all heard in one way or another that "What you eat is what you are". This happens to be so true in cases of people with weight problems. But food isn't only about weighing machine. It is also about a healthy skin and this is where food for your skin concept comes in. Eating right will not only give you healthy skin, but a glowing, vibrant and younger looking skin will give you the additional confidence. It is pointless, in some cases to buy all the expensive cosmetics to put on your skin when you don't eat the right food.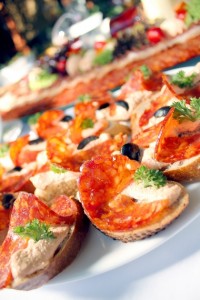 There are in some extreme cases where food is strongly related to skin problems. Some chronic skin conditions are such as eczema and skin allergy. So the big question comes, what is the right food to eat? Most experts advice that eating a balanced diet is the best food for your skin but nevertheless, there are some specific foods that are able to help boost your complexion. One of these components of a healthy looking skin is vitamin A. It is said that vitamin A is one of the main ingredients for a healthy looking skin.
Apart from vitamin A, another food for your skin is fruits and vegetables that are high in antioxidant. Antioxidants functions to protect your skin cell so that there is less chance of premature aging. Essential fatty acids are also another important food for your skin. Essential fatty acids keep the cell membranes healthy. The cell membranes which are used to store water in the skin so skin can be kept moisturized also acts as the barriers to harmful things.
Healthy oil also keeps the skin lubricated. However, it is important to remember that no matter how healthy oil, we do not need more than 2 tablespoons a day. Another important food for your skin is the mineral selenium which plays the importance affecting our insulin levels
Green tea is a beverage that is always promoted to be a beneficial drink for all health causes. The ingredient in the green tea has anti-inflammatory function which is protective to the cell membrane.
Lastly, water is also an important food for your skin. Water plays the role of hydration which keeps your skin looking healthy and young.
With all this, it is in the end important to keep a healthy and balanced diet as it is after all the basic food for your skin.
Image from stock.xchg